Since mid-March at the panic lows and prices around US$1,450, gold posted a massive rally, reaching US$1,765 just 10 days ago. Anybody who missed this rally might now be under stress, since governments and central bankers are doing everything to destroy the purchasing power of this hard earned-currency which is sitting in the bank account paying no interest. Gold has done a good job to protect its holders. However, blindly chasing any asset that is in an uptrend is not a good strategy. The key is always to wait for pullbacks and dips so that one can buy low instead of high. With gold, patience is a virtue.
Review
Looking back, my last two gold (XAUUSD:CUR) analyses on March 16th and April 20th were partly a little too pessimistic. Although there was indeed a brutal sell-off down to US$1,450 on March 20th, the unprecedented expansion of the money supply by almost all central banks worldwide quickly caused gold prices to rally towards US$1,747 within the following four weeks. Since this high point on April 14th, gold prices overall have traded sideways between US$1,660 and US$1,765. Thus, there wasn't any deep pullback!
However, the prices haven't run away either. On the contrary, it must be noted that despite the coronavirus crash and liquidity flooding, gold basically has not made much progress since its first interim high at US$1,689 on 24th February. Currently, with spot gold trading slightly below US$1,710, prices are up less than US$20 since the end of February!
In euro terms, the results do look somewhat better. Here, prices have just recently reached a new seven-year high at EUR1,632 in the past trading week and have also been in a flat uptrend over the last few weeks.
All in all, the price of gold has thus been stagnant for nearly eight weeks.
Technical Analysis: Gold in US Dollars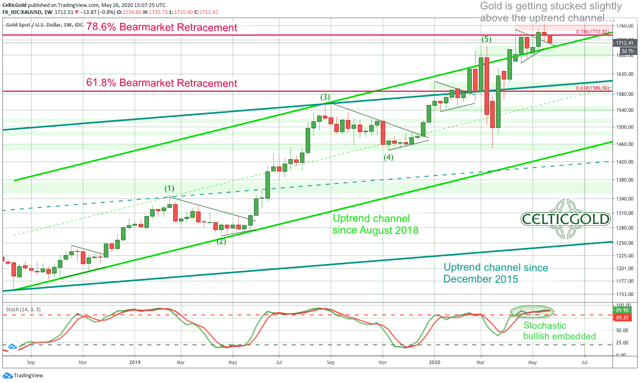 Gold in US dollars, weekly chart as of May 26th, 2020. Source: TradingView
On the weekly chart, gold bulls continue to strive to finally leave the uptrend channel that began in August 2018 behind them. So far, they have not yet succeeded in doing so. Should the bulls now run out of steam or need a breather, a quick pullback towards the middle of the trend channel would be very likely. However, despite weeks of consolidation at a high levels, there is still no sign of exhaustion. But one could speak of a "dwindling bullish momentum".
It is noticeable that since the beginning of the year, gold has been moving primarily in the zone between the 61.8% fibonacci retracements (US$1,586) and the 78.6% fibonacci retracements (US$1,733). These fibonacci retracements relate to the major correction in the gold market when prices fell from US$1,920 down to US$1,045 between 2011 and 2015. Since the final low in December 2015, the bulls have now recovered 61.8% and 78.6% of the lost distance. Hence, the zone between US$1,586 and US$1,733 is the last place of refuge for the gold bears. If this last bastion can be sustainably conquered, the way to the all-time high at…