Gold closed the week at US$1,770 almost US$20 higher than at the closing price on June 19th. The bulls not only pushed prices to a new eight-year high at US$1,780 but have once again responded with great strength to a bearish attack on Friday. Every dip, no matter how small, is bought immediately.
Review
Since their highs at US$1,747 and US$164.42, spot gold price (XAUUSD:CUR) and the SPDR Gold Trust ETF (GLD) have been consolidating sideways for two months. During this period, bulls and bears were regularly taken for a ride, as there was a new high at US$1,765 as well as repeated pullbacks well below US$1,700.
All in all, however, the gold market has never lost its bullish tone despite the tenacious confusion. Time and again the bulls were able to quickly recover and reclaim lost ground. Therefore, in the last four weeks I have gradually completely abandoned my rather skeptical stance, which I had been taking since the end of February. I am now fully focused again on the opportunities on the upper side.
Most recently the price of gold slipped back down to US$1,670 on June 5th. However, here too, a strong countermovement up to US$1,745 quickly followed. And the subsequent pullback already ended above the psychological mark at US$1,704. Since then the price of gold has risen considerably and reached a new 8-year high at almost US$1,780 on Wednesday June 24th.
However, the bulls have not (yet) been able to maintain this level in the last few days, but prices closed the trading-week only slightly lower at USD 1,770. The breakout above the resistance zone at US$1,750-1,765 has thus been more for less accomplished and the end of the ten-week consolidation is probably sealed. Prices around US$1,800 are within reach.
Technical Analysis: Gold in U.S. Dollars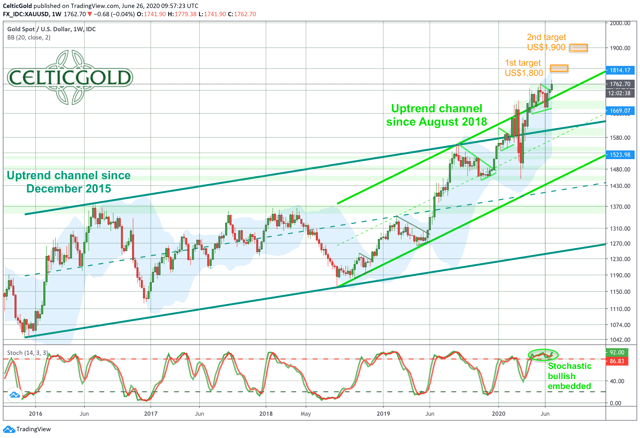 Gold in US dollars, weekly chart as of June 26th, 2020. Source: TradingView
Since December 2015 the big picture in the gold market is based on a bullish trend. According to the dark green uptrend channel in place since December 2015, the bears would need to push gold back towards and below US$1,300 to change the overall bullish trend!
And despite the recent multi-week consolidation, the bulls were effortlessly able to hold prices above the light green uptrend channel that began in August 2018. Together with the new eight-year high at US$ 1,780, the door to higher prices is now wide open. The first immediate price target is the zone around US$1,800. The bulls failed at this round mark three times in 2012 and 2013. The round psychological mark should therefore not be underestimated as potential resistance.
Even more important, however, is the all-time high around US$1,920. With a very high probability, prices will be magnetically attracted by the round number of US$1,900 as an overriding price target. However, a direct breakout above US$1,900/1,920 is not likely. Rather, larger profit taking is to be expected at this level. Despite the overbought situation on the weekly chart, the bulls could thus…


Read more:Gold – Breaking Out Towards US$1,800 And US$1,900 (Commodity:XAUUSD:CUR)