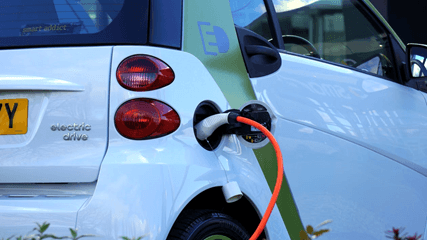 (Pexels)
In general, 2020 has been an awful year for manufacturing firms as the business has ground to a halt due to a lack of new orders and occasional production shortages. In the U.S., vehicle sales have been down 30-50% with similar declines in most of the world. Since most automobile producers operate under very thin margins, this has put major well-known firms like Ford (F), Toyota (TM), and General Motors (GM) in a difficult financial position.
However, electric vehicle companies are soaring. Tesla (TSLA) has more than doubled in value this year while its smaller competitors have risen 200-400% in value. To be fair, the company has managed to post higher-than-expected deliveries despite a poor operating environment at 90K vehicles (about 5% below last year's level). This rally has caused Tesla's valuation to climb to $260B which is 26% higher than Toyota's at $205B. This is despite the fact that Toyota currently sells nearly 30X as many cars per year and has managed to make a near-consistent profit.
Additionally, Tesla has greater competition today with many new producers finally bringing their vehicle to market. Almost all of which have risen by multiples this year. This includes Electrameccanica (SOLO), Arcimoto (FUV), NIO (NIO), Nikola (NKLA), and Workhorse Group (WKHS). As you can see below, Tesla is actually among the worst-performing of this group since the March low in equities: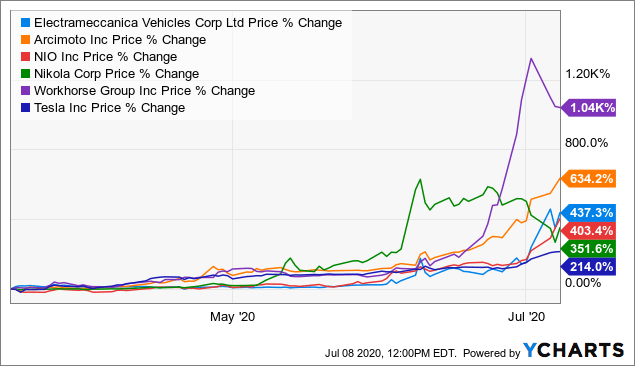 The size of these firms ranges from below a billion (Arcimoto and Electrameccanica) to Tesla at $260B. However, none generates a consistent profit. Most burn cash and are kept alive by share dilution and debt financing. That said, investors remain hopeful that they will, one day, generate sky-high profits that will make their high valuations today seem reasonable.
Let's take a closer look at these six firms to see if investors have found the next best opportunity, or are merely buying into another hype-driven bubble. As we'll see, it is probably best to take profits on the sector and perhaps even short the major names like Tesla.
Gauging Valuations in Electric Vehicles
It is often said that Tesla "cannot be valued fundamentally". This was partially true when the company was first introducing vehicles, but now it is an established firm with considerable sales so it is increasingly subject to normal economic cycles like its traditional competitors. However, this is not the case for the other firms besides perhaps NIO.
Regarding Tesla, I do not believe its current valuation appropriately accounts for its future cash flow. Even if the company were to generate a 7% margin off its sales (typical of many other firms) it would make around $1.8B per year using TTM revenue. This would give Tesla a "P/E" of 143X. Obviously, Tesla is likely to grow quite a bit more, but it would need to both grow revenue by 1,400% and increase its margins to 7% in order to have a "P/E" valuation in-line with established competitors (most are around 10X). In my…


Read more:These Six Electric Vehicle Stocks Could Crash Soon