In a prior article I focused on how bitcoin(BTC-USD) functions as a complement to gold. Additionally pointed out the limitations of the Grayscale Bitcoin Trust (GBTC), but argued that the benefits of bitcoin outweighed these limitations. In this article I discuss a historical framework for analyzing how the growing mainstream institutional adoption will change the nature of the market, and drive the price of Bitcoin higher.
Perez Model
In Technological Revolutions and Financial Capital, Carlota Perez outlines a model for understanding technological revolutions and economic history. She divided technological revolutions into two main phases: (1)the installation phase when technology is new first coming into the market and infrastructure around it is built, and (2) the deployment phase, when it was adopted by mainstream society, leading to the development of a new ecosystem of businesses.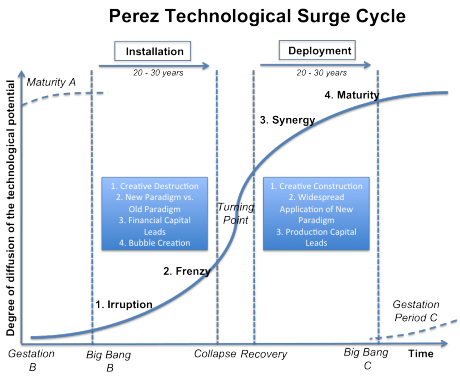 Source: The Carlota Perez Framework – AVC
The installation phase can be further divided into the Irruption and a frenzy. This phase gives rise to a financial market bubble, the popping of which leads to financial distress, possibly systemic depending on who provided the capital initially. The deployment phase includes both synergy and maturity. During this phase the technology becomes widely familiar, and the benefits spread to the broader society. Perez applied her framework to the first industrial revolution in Britain, steam engines, steel and electricity, oil, and information technology. Venture capitalists have pointed out that this framework can also be used as a model to understand developments in the digital asset space.
Its likely that the 2017 bitcoin frenzy and subsequent collapse marked the end of the installation phase.
The long run price chart of BTC-USD tells this story: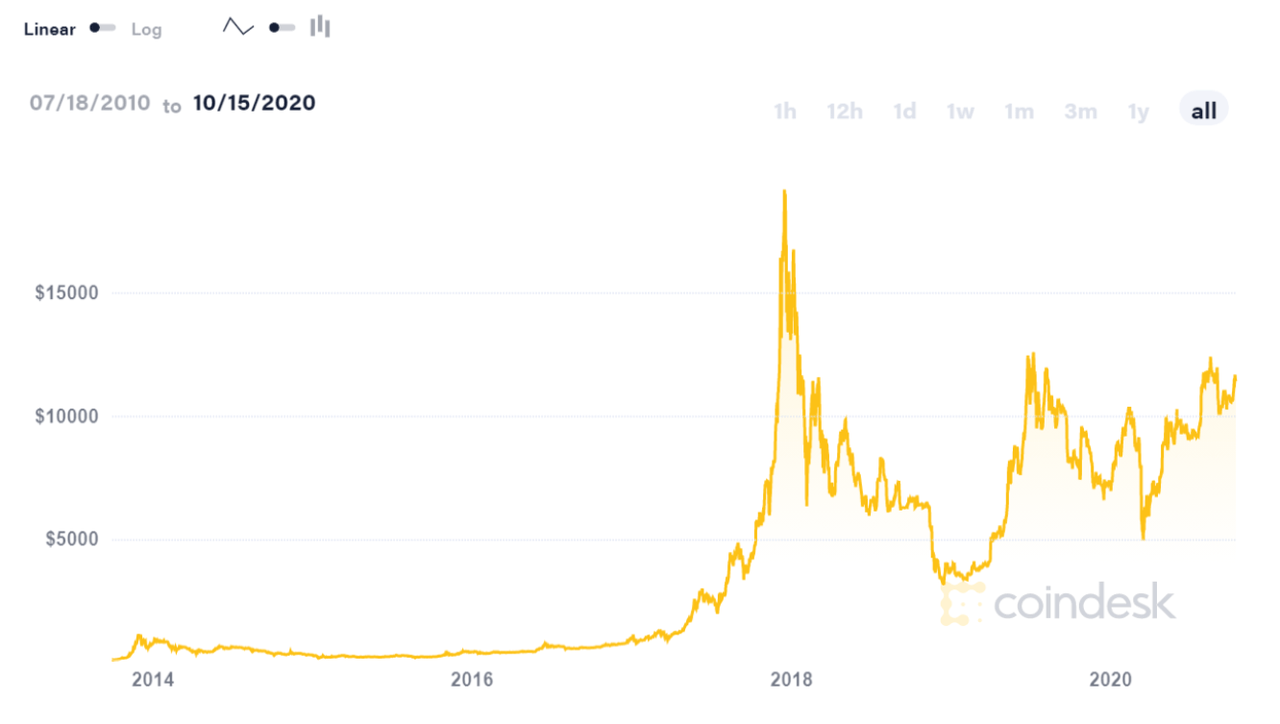 The deployment phase will lead to widespread adoption of bitcoin as an asset class, and an ecosystem of business necessary to allow institutions to invest in it. Recent developments support the idea that we are moving into an era for bitcoin that will resemble the deployment phase in Perez's model. This will bring a surge in demand into an asset class with a small market cap, creating a lot more upside for Bitcoin.
Institutional Deployment
Custody and execution services are key parts of the ecosystem of businesses that will define the deployment phase for bitcoin. Without these services, allocating to bitcoin is more trouble than its worth for most institutions. Additionally, institutions need a clear regulatory framework to avoid compliance problems.
Stone Ridge Asset Management and the New York Digital Asset Group (NYDIG) in 2019 published a paper outlining the challenges faced by institutions seeking to get bitcoin exposure:
….Thus, when implementing a Bitcoin position, fiduciary agents find themselves in a new and often uncomfortable position. In addition to weighing the dollar cost of various approaches, they must also understand the operational…


Read more:The Next Phase For Bitcoin (Cryptocurrency:BTC-USD)