Cryptocurrency Fraud
,
Cybercrime
,
Fraud Management & Cybercrime
Kaspersky: Victims Receive Unsolicited Messages Promising a Monetary Gift

Prajeet Nair (@prajeetspeaks) •
February 6, 2021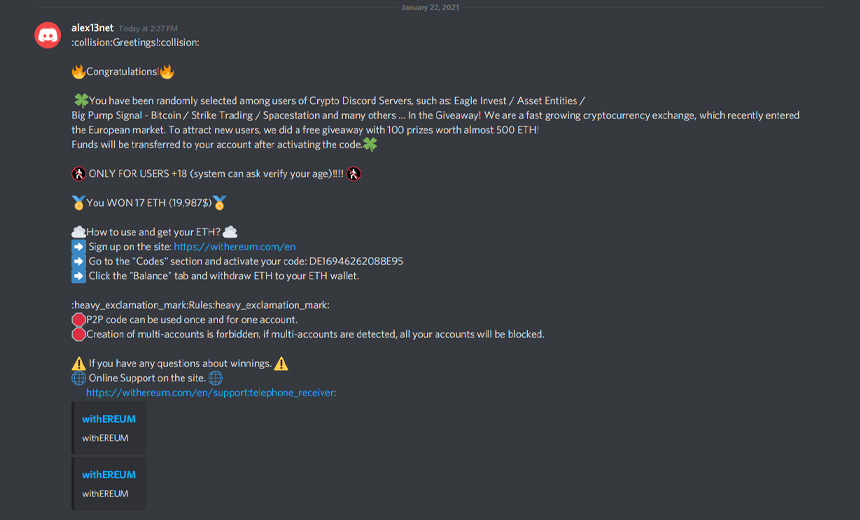 Kaspersky researchers are warning that fraudsters are targeting Discord users with a scam centered on a fake cryptocurrency exchange and using the lure of free bitcoin or ethereum cryptocurrency to steal money and personal data.
See Also: Rapid Digitization and Risk: A Roundtable Preview
The latest cryptocurrency scam lures victims on Discord's cryptocurrency servers by sending a private message that looks like an ad for a genuine up-and-coming trading platform giving away cryptocurrency and deploys social engineering tactics to drive sign-ups, according to the report.
"The reasons for such alleged generosity vary from message to message, but whether the exchange is supporting traders in difficult times or trying to attract new users, the thrust is always the same: The lucky addressee has been randomly chosen to receive an impressive payout in bitcoin or ethereum," Kaspersky notes.
Discord was created for gamers, but its handy system of servers, channels and private messages is used by a wide cross-section of people ranging from study groups to fans of cryptocurrency, Kaspersky says, making them a perfect target for scammers.
James McQuiggan, security awareness advocate at security firm KnowBe4, says these attacks are similar to what happened last summer with Twitter. The attackers use social engineering to conduct a scam by creating a false sense of urgency and the promise of a payout (see: 'Crypto' Scammers Weren't the First to Crack Twitter).
"This scam is a typical ploy preying on people with several emotions, like greed, curiosity and urgency. Victims are enticed with the opportunity to win money if they sign up for an account and add some money to it," McQuiggan notes.
Sowing Discord
The fraudsters attempt to first placate the victim by filling the unsolicited message with fun emojis and adding in detailed instructions – and a code – for accepting the digital currency gift. The message provides a link for registering on the purported digital currency trader's cryptocurrency exchange, according to…


Read more:Fraudsters Target Discord Users in Cryptocurrency Scam