Robinhood has seen six million new cryptocurrency traders on its platform in the first two months of 2021.
"That's more than the number of new crypto traders at Robinhood during the entirety of 2020," Robinhood co-founder Vlad Tenev tweeted Thursday.
In 2020, the number of users trading through Robinhood Crypto peaked at 401,000 for a single month, with a monthly average of about 200,000 customers trading on Robinhood Crypto for the first time.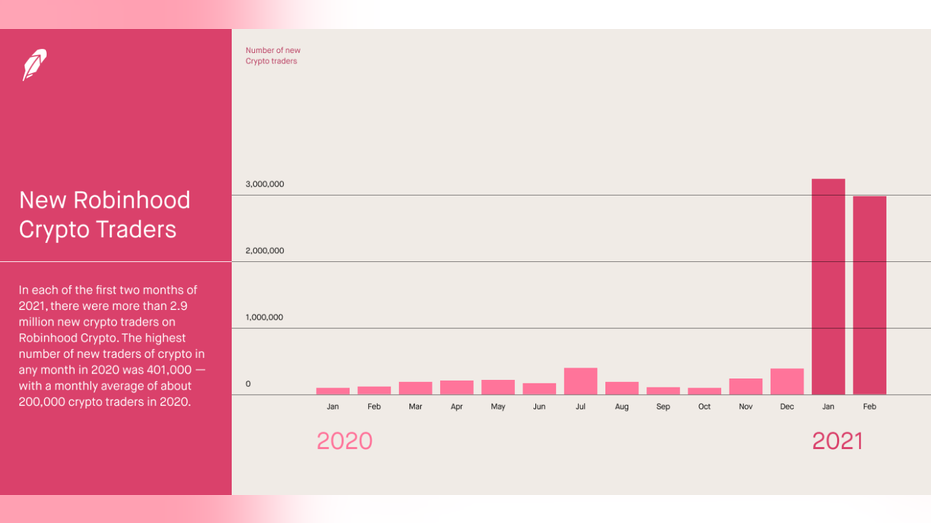 In comparison, each of the first two months of 2021 saw around 2.9 million users trading through Robinhood Crypto.
BITCOIN'S BIGGEST PLAYERS INCLUDE TESLA, SQUARE, MASTERCARD
Robinhood Cyrpto, which launched in Feb. 2018, offers seven tradeable digital currencies, including Bitcoin, Bitcoin Cash, Bitcoin SV, Dogecoin, Ethereum, Ethereum Classic and Litecoin. It also offers real time market data for digital currencies including Bitcoin Gold, Dash, Lisk, Monero, NEO, OmiseGO, Qtum, Ripple, Stellar, and Zcash.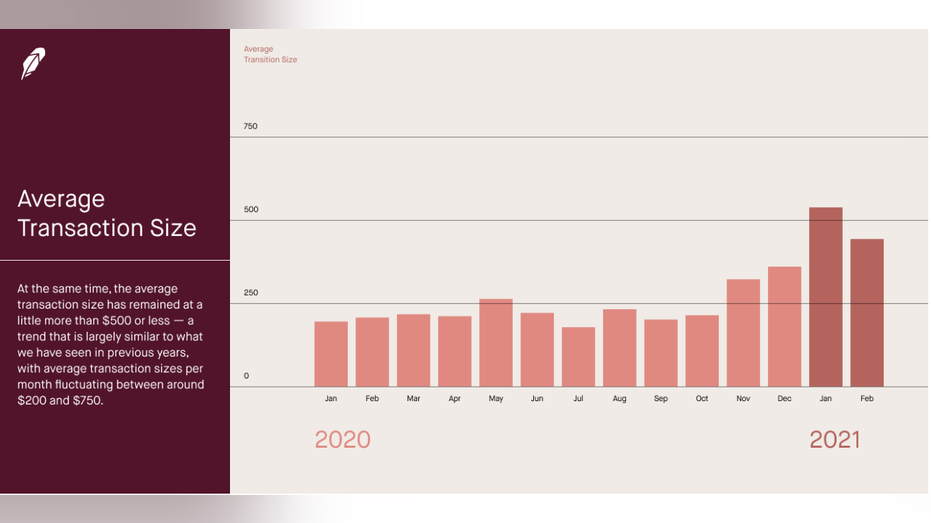 The company's average transaction size for its cryptocurrency trading has reached about $500 in the first two months of 2021, compared to an average transaction size hovering around $250 in 2020.
According to recent Congressional testimony by Tenev, the platform has over 13 million total users.
CHARLIE MUNGER: ROBINHOOD LURING AMATEURS WITH COMMISSION-FREE TRADING IS A 'DIRTY WAY OF MAKING MONEY'
The announcement comes just a day after Berkshire Hathaway vice chairman Charles Munger warned that Robinhood and other brokerage apps are trying to lure amateur investors with promises of commission-free trading.
"Robinhood trades are not free. When you pay for order flow, you're probably charging your customers more and pretending to be free," the 97-year old investor said during the Daily Journal's annual shareholder meeting, which was livestreamed by Yahoo Fiannce.  "It's a very dishonorable, low-grade way to talk. And nobody should believe that Robinhood's trades are free."
Munger blamed the brokerage apps for enabling the recent trading frenzy in stocks including GameStop by gathering "a whole lot of people who are using liquid stock markets to gamble the way they would in betting on race horses."
"It's really stupid to have a culture which encourages as much gambling in stocks by people who have the mindset of racetrack bettors," Munger said. "And if you're selling them gambling services where you rake profits off the top like many of these new brokers who specialize in luring the gamblers in. I think it's a dirty way to make money. And I think that we're crazy to allow it."
Robinhood fired back at Munger on Thursday, calling his comments "disappointing and elitist."
"In one fell swoop an entire new generation of investors has been criticized and this commentary overlooks the…


Read more:Robinhood sees 6M new crypto traders to start the year