Liberty Bitcoin YFGC – Day 8
by Conrad Colman 11 Mar 21:23 UTC
11 March 2021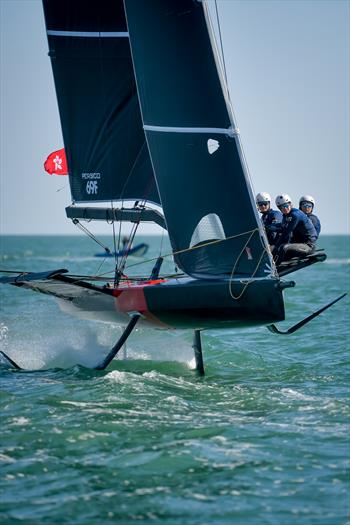 Liberty Bitcoin YFGC 2021 © Marta Rovatti Studihrad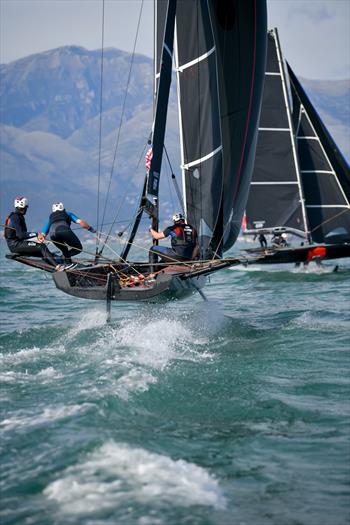 Liberty Bitcoin YFGC 2021 © Marta Rovatti Studihrad
Strong winds finally reveal the full potential of the Persico 69F
When cooking, the end result is only ever as good as the quality of the ingredients. Today, Gaeta served up a full feast for the Liberty Bitcoin YFGC with all the required ingredients… plenty of wind, bright sunshine and waves that challenged even the most experienced sailors.
Many of the new teams were facing strong winds and blistering speeds for the first time; consequently, there were wild crashes and capsizes aplenty. One of the new teams, One Switzerland, was forced to improvise and learn on the fly, literally, and sometimes struggled to coordinate manoeuvres when the speeds rose. Despite capsizing three times, Clelia, David and Max were still buzzing with excitement and beaming soggy smiles.
Looking on from his coach boat, 69F Chief Sailing Officer Dede De Luca was smiling like a proud father after watching the fleet pulverize Gaeta bay.
"Today was a wonderful day. The biggest waves we had ever raced in and I am very impressed by both the boats and the teams. If you had never sailed in these conditions before, it's quite a shock. The boat becomes very powerful requires a new approach. I can imagine it was really hard for the teams that hadn't trained in these conditions before."
Southern Challenge was a hidden jewel today, taking the fight to the top teams and finally bringing their high-speed foiling experience to the table. Their ranking at the end of the day doesn't reflect their performance on the water, as they were penalized for several infractions but nonetheless, they proved that true mastery of the platform is not far away.
Riley Gibbs, Southern Challenge: "We had moments of brilliance, but yet again, we were racing in conditions we hadn't trained in. Now that we are going faster, it's just a matter of switching our heads into a high-speed mode and anticipating the next mode change. With this wind, the 69F feels like the Nacra 17, a full-on apparent wind mode foiling craft. It actually reminded me a lot like the GC32, with the boards' timing in the manoeuvres and the communication on board."
The true masters of the day were again Team DutchSail – Janssen de Jong who put on a flawless performance and won every race. They are the team that has trained the most, in the widest variety of conditions, and were able to focus on the details of the racecourse while other teams were in survival mode. Even as sailing moves into a new flying era, the fundamentals remain. The team that trains the most and makes the least mistakes when the pressure's on, will…


Read more:Liberty Bitcoin YFGC – Day 8