Crypto at a glance
Bitcoin continues to take a back seat as other cryptocurrencies have their moment in the spotlight. Its market dominance is down again to just 49 per cent today, having slipped from around 76 per cent at the start of the year.
It's lowest ever market dominance was around 37 per cent, which was at the peak of the last bull run in 2018. Will it again regain its supremacy or is this the start of a new era that could see rivals challenge for its crown?
The Bitcoin price has now held at the $54-55k level for the last three days, though a minor scare yesterday saw it take a sharp tumble down to $52,000 before quickly recovering. It's certainly making itself at home and getting its feet under the table, but can it continue to hold that level or is it preparing for a more decisive move?
Elsewhere, Ethereum continues to look strong and again pushed to new all-time highs yesterday. The second-largest cryptocurrency by market capitalisation was trading for just shy of $1,800 yesterday, spurred by talk of impending upgrades including the widely-anticipated introduction of EIP 1559.
It's hoped EIP 1559 will decrease uncertainty around Gas fees, while also introducing a fee burn model for transactions that adds a deflationary element to the ETH currency. Will this further boost give its credentials as a safe haven too?
There are a number of big movers today, with BNB flying past $600 again. It's now up eight per cent over the past 24 hours. XRP is also roaring, up over 10 per cent to $1.55, although Cardano (ADA) has slipped off the pace slightly since yesterday and is down two per cent, despite several announcements surrounding initiatives in Africa.
The cryptocurrency is investing heavily with World Mobile Group in bringing decentralised infrastructure to the region, growing into one of the largest decentralised donations platforms in the world. For a full breakdown read the following article James Bowater in conversation with Charles Hoskinson
All feedback on Crypto AM Daily in association with Luno is welcome via email to James.Bowater@cityam.com 🙏🏻
In the markets
The Bitcoin economy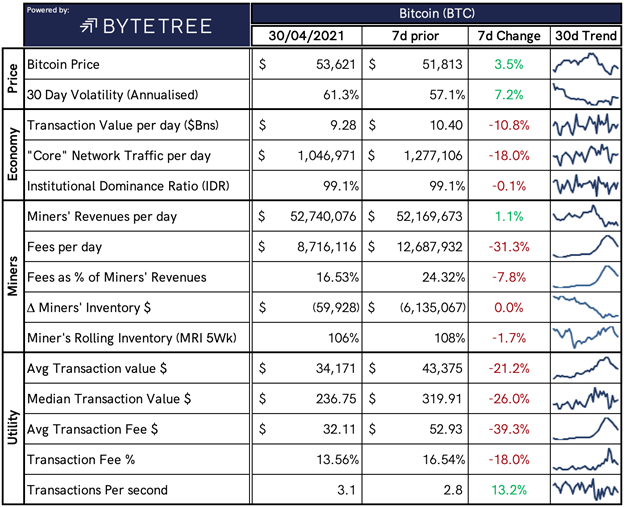 *Definitions and insights can be found at https://bytetree.com/insights/
Total crypto market cap
The total capitalisation of the entire cryptocurrency market at time of writing is currently $2,118,653,457,368, up from $2,088,399,935,373 yesterday.
What Bitcoin did yesterday
We closed yesterday, April 29 2021, at a price of $53,555.11 – down from $54,824.70 the day before.
The daily high yesterday was $55,115.84 and the daily low was $52,418.03.
This time last year, the price of Bitcoin closed the day at $8,801.04. In 2019, it closed at $5,247.35.
Bitcoin market capitalisation
Bitcoin's market capitalisation at time of writing is $1.016 trillion, the same as yesterday. To put that into context, the market cap of gold is $11.24 trillion and Alphabet (Google) is…


Read more:BNB notches $600 and market 'prices in' Cardano's Africa announcements as Bitcoin