While the leading crypto got a boost on Wednesday after news that lawmakers in El Salvador voted to approve bitcoin as legal tender, its price remains nearly 40% below highs of around $60,000 from as recently as a month ago.
Our call of the day, from strategists led by Nikolaos Panigirtzoglou at investment bank J.P. Morgan, is that two key measures indicate that bitcoin
BTCUSD,
+1.79%
is in a bear market—and they can also tell investors when it's over.
The first red flag is that bitcoin futures have shifted into "backwardation" for the first time since 2018, the strategists said. Backwardation is when the current price of an asset is higher than the price trading in futures markets. Futures for the other leading crypto asset, ethereum
ETHUSD,
-1.73%,
have also approached that critical turning point into backwardation, as seen in the chart below.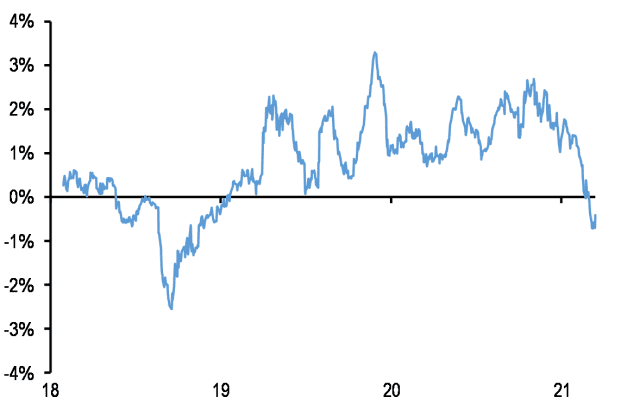 "This is an unusual development," said the J.P. Morgan team. "And a reflection of how weak bitcoin demand is at the moment from institutional investors that tend to use regulated CME futures contracts to gain exposure to bitcoin."
Normally, when demand for bitcoin futures isn't weak, the futures trade at a higher price than the spot price—typically around a 10% futures to spot spread. However, when price expectations for bitcoin turn bearish, the futures curve slips backward, and this was the case for most of 2018, according to the strategists.
"We believe that the return to backwardation in recent weeks has been a negative signal pointing to a bear market," said Panigirtzoglouand his team. "We are thus reluctant to abandon our negative outlook" on bitcoin, they said, until the 21-day rolling average of the 2nd CME bitcoin futures spread over spot shifts back into positive territory.
The second red flag is the low share of bitcoin in the wider crypto market. The same strategists wrote in May that the sharp decline in the share of bitcoin during April and May—from around 60% towards 40%—was a bearish signal. They said that it echoed the individual investor-driven "froth" of December 2017—when the share of bitcoin fell from around 55% to below 35%.
"We believe that the share of bitcoin in the total crypto market would have to normalize and perhaps rise above 50% (as in 2018) to be more comfortable in arguing that the current bear market is behind us," said the J.P. Morgan team.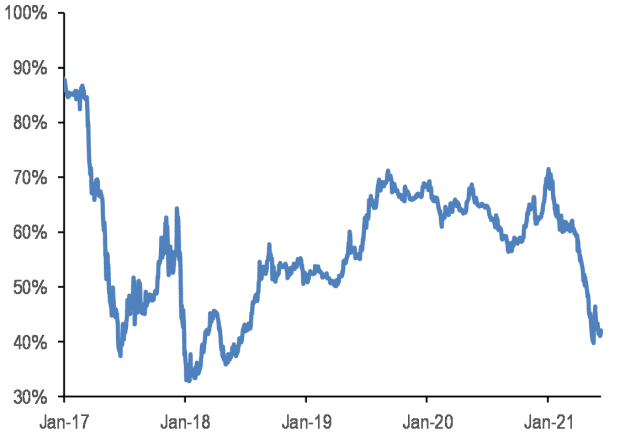 Read more:These two bitcoin bear market indicators may tell investors when cryptos will bounce