Bitcoin, likewise other cryptos, have had a hard seven days. So investors across the crypto have understandably been wary of the market and any investments at this point. This has played out in the way the digital assets have done in the market. Various dips have put the market into what looks like a long-suffering form. But while most investors hold their breaths in wait for what happens next, whales are on the move with their bitcoin investments.
Whales Gearing Up For Next Bitcoin Rally
Whales have been known to move large amounts of cryptocurrencies across wallets. These happen both in times of bull and bear markets. One thing that metrics have shown recently is that whales are using the current price crashes as a buying opportunity. Movements from BTC wallets holding around 100 to 10,000 bitcoins, otherwise known as whales, show that these investors are completely unfazed by current market trends.
Related Reading | How Shrinking Short-Term Supply Of Bitcoin Is Affecting The Asset's Price
Data shows that wallets with at least 100 to 10,000 BTC have been increasing their holdings in the last couple of days. These whales have now accumulated over $2.9 billion worth of bitcoin since the week began. Following the price crash that happened on September 7th, the market entered into a period of low momentum. Price remained around the $45K to $47K, with not much in the way of movements either way. Presenting a perfect opportunity for big-time investors to fill up their bags.
BTC price trading in the mid-$47K range | Source: BTCUSD on TradingView.com
Another interesting metric is the spending rate of the whale wallets. On-chain analysis shows that these wallets are not doing much in the way of spending their bitcoins. Rather, the assets held in the wallets have remained in their position. Usually only moving in what looks to be the investors or entities moving their coins to other personal wallets. In short, the whales are accumulating and they do not plan to sell anytime soon.
Market Sentiment Turns To Neutral
The market crash last week saw market sentiment do a complete 180. The Fear & Greed Index the week before had shown increasing positive sentiment amongst investors, when the index had moved from greed into extreme greed. This put the market under immense buy pressure the week leading up to one of the biggest news of bitcoin adoption; the sovereign nation of El Salvador making BTC a legal tender.
Related Reading | New To Bitcoin? Learn To Trade Crypto With The NewsBTC Trading Course
The market, however, did not respond the way it was expected to on the day the law became official. Instead of triggering a continuation of the bull run the market had been in, BTC had lost over 17% of its value in a flash crash. The Fear & Greed Index promptly moved into the fear region after the crash, where it stayed for the rest of the week.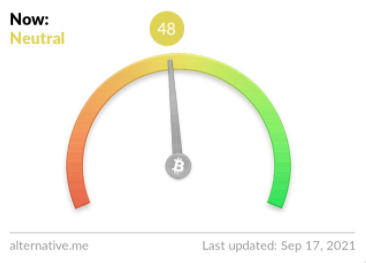 Fear & Greed Index moves into neutral | Source: Fear & Greed Index on Alternative.me
Now, though, the index has…


Read more:While Broader Crypto Market Holds Its Collective Breath, Whales Are Loading Up On